Gundam: 8th MS Team |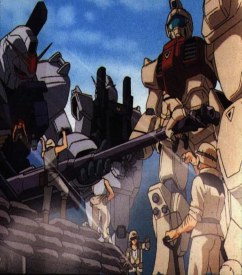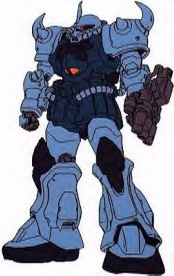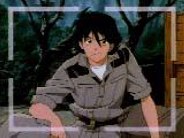 This reviews is the work of Hidden Horror(HitokiriBattou73@aol.com).

Thanks for the review, HH!

I never really liked the Gundam series. I had seen a few episodes of Gundam Wing before, I thought it was okay...but I'm sorry to say that Digimon kept me more entertained (I'm serious! I used to be a digi-devotee). Anyway...One night, I was up pretty late and flipped onto Toonami. Lets just say...my attention was captured...and I would watch each episode of the series intently, and love it for a long time to come. The animation is pretty good, its only typical gundam animation however. The character designs were done quite well, and it was mostly....pretty good. Not to primitive...but still...not matching the AMAZING effects of Akira. The characters...who could forget them. The loyal Shiro Amada...The stubborn Karen Joshua...Beautiful Aina...and the deep Terry Sanders, just to name a few. Their completely diffrent personalities form together throughout the story almost perfectly. The romance between Aina and Shiro is...unforgettable. I however was disapointed with the short number of episodes, but I really can't think of what they could do with any more...except tons and tons of fillers....so maybe the limited amout is a plus... I'm really short for words...all I can say is....this is a great anime that you will enjoy for a long time to come....Its got a wonderful story, a great..developed romance..and a nice soundtrack...all tied together with some ass-kickin' Gundam action! I give 08 MS Team a 9/10!
Webmaster's Note: I have to agree with the reviewer; this is probably my favorite Gundam series out of the lot. I enjoyed all the other Gundam series immensely, but something about the depth and emotion of 8th MS Team made it stand out from the crowd. Furthermore, this series probably has the best visual presentation. The character and Mobile Suit designs are excellent. A short and sweet series I would recommend to any mech fan!