Genocyber |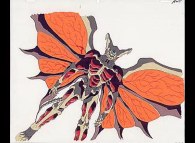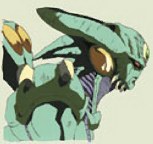 To start things off, I would like to warn you that this is not an anime for the squeamish, as it contains plenty of guts, gore, and ultra-violence. But heck, we all like that stuff, so why did I even mention it, eh? With that out of the way, let's take a closer look at this sci-fi/horror/action blend OVA. First of all, notice the very cool design of the Genocyber itself, especially the picture in the background of this page.(in case you are exceptionally slow, the Genocyber is the beefed-up gargoyle thing in the pictures) Pretty cool looking, huh? Well, that is about the biggest high you are going to get out of this OVA. Watching the Genocyber in action is almost undeniably the best thing about this otherwise very mediocre anime. The soundtrack is decent, and the instrumental version of the main theme, "Fairy Dreaming" is a favorite of mine. The animation is of good quality, although as I mentioned earlier, it tends to have some excessive violence, including three of the most gruesome and disturbing scenes I have ever seen in anime: a guy digging out his own brains, a guy waking up to find himself vivisected and abandoned on a gurney, and, worst of all, a scene were three little kids get chewed up by high-caliber chaingun fire. Hmmm, not very cool things to happen to a person. But then, it's made up, so it's all good! I wouldn't consider it a fault, unless you are bothered by such things (which is perfectly understandable).
The story of this anime will immediately remind the viewer of Akira.
This is another story in which scientists tamper with the psychic potential of young people, in this case a ki-esque force called vajra, which subsequently awakens and activates all kinds of terrible powers within them. The protagonists this story are two of these special youths, twin females actually, who are very different from each other. One has intelligence, but her body is so weak that it had to be replaced with a cybernetic frame, and the other is physically perfect, but has the mentality of a beast. They are beset by punks, cops, government agencies, and even their own creators. Eventually, they are forced to fuse together just to survive, unwittingly becoming the Genocyber, a creature of almost unlimited power. Well, let's just say the aforementioned hoodlums had better watch out, because the Genocyber is not something you want to mess with. But of course they mess with it anyway, otherwise we wouldn't have much of a show, would we? The story then becomes a tale of survival and sorrow, as the twins fight to retain their life and humanity. The story is somewhat compelling and touching, but it hops aroudn way too much, and seems cut way too short. I haven't confirmed this, but I would bet that the last segment wasn't even made by the same people, so different is its setting and visual appearance. A solid action-anime with a good sci-fi/horror story that is significantly hurt by a few severe story faults. I give Genocyber a 7 out of 10.